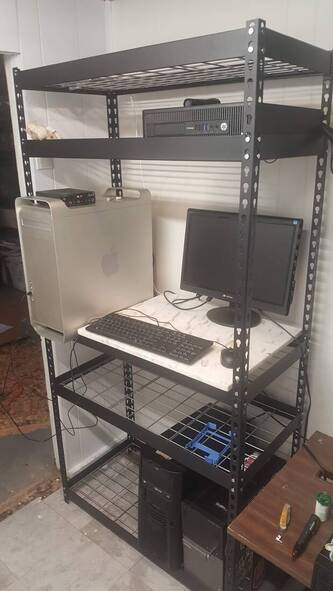 UpEveryone should have a hobby.
Sometimes you can make that a career.
We used to build our own servers and paint them garish colors, and at one point Dave was serving the site from his basement.
In that spirit, we've started this journal of the buildout of the homelab here at GeekForce World Headquarters. (GFWHQ)
Ongoing Iniatiatives and Special Projects.
Upgrade Ada, move compute and storage node.
Ruckus Wireless
demo and stress test.
Latest silly thing we did was yank one of the APs from GFWHQ, drove it across town, and plugged it into an entirely different network. Darn thing connected just fine, bridged out to the cloud, and allowed me to connect as if we were back in the basement.
LanSweeper
Enterprise development focused on identifying all of the misc and etc that we plug in to the network. The Asset Radar feature is really neat.
ProxMox
: Main hypervisor used to host all VM's and containers, currently building out "OS Zoo", for no particular reason.
Currently installed
Windows Server 2019: AD, DNS, DHCP, IIS, some win10 hosts.
Ubuntu Server of various flavors, used to host our main MS-SQL database, as well as main fileserver.

DietPi: Runs like a champ in a VM with minimal resources. Have to overwrite the IMG onto the virtual disk.

Astra Linux: Public version of the Russian Armed Forces approved distro.
Light and fast, obviously security focused. Has an annoying habit of reverting the shell to Cyrillic characters.

OpenIndiana: An illumos based Unix-like operating system derived from OpenSolaris. Sun servers were our first intro to file servers, installed for nostalgia.

CentOS: VM workstation, joined to the AD domain, accessed via Spice.
ReactOS: No use case at the moment, mainly installed out of curiosity.

FreeBSD: The Geekforce OG OS.

Elementary OS: Production distro used on all Geekforce lappies.

We host the
Geekforce RIPE probe
to do our part.
R
IPE
is building the largest Internet measurement network ever made, and we are excited to be a part of it. (plus we get a monthy report of uptime)
Recent accomplishment was creating a mesh network using the "
multiple routers same SSID
" trick, using the built in firmware.
Roaming on the cheap, works well with all of the routers located in the basement. The data and experience we gained have been applied to the Ruckus trial.
---